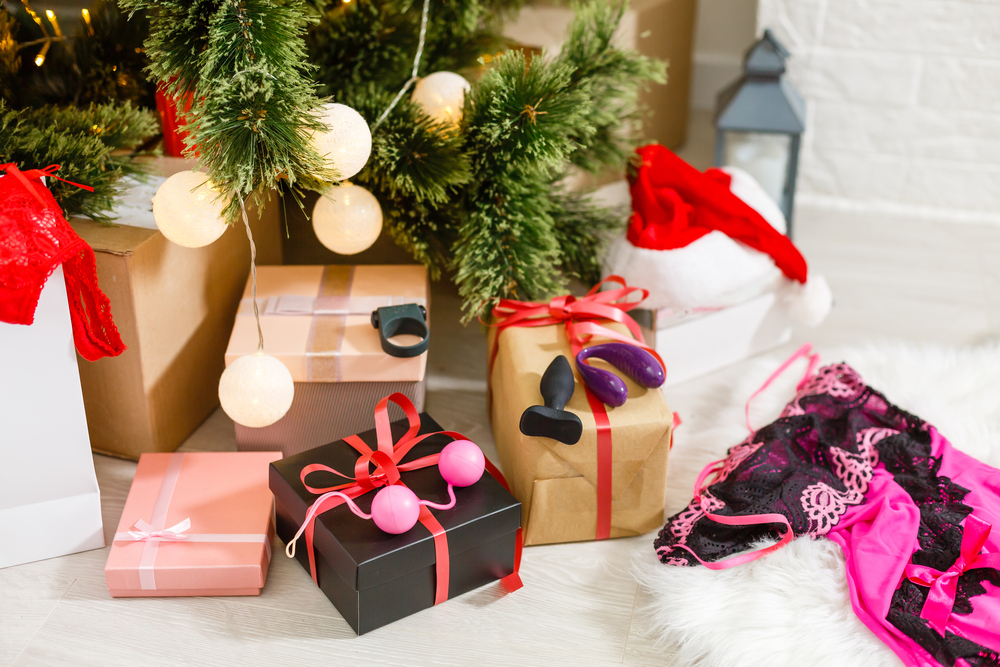 02 Dec

Six Fun Ways to Spice Up Your Holidays
With so much going on at Christmas time and throughout the holiday season, it can sometimes be hard to juggle everything. Even though Christmas is a time for those you love, the madness of running around looking after family and having annual catch-ups with friends you wish you saw more often can make us push our closest relationships to the back-burner.
At The Pink Boxxe, we want to make sure you don't forget that the mulled wine isn't the only thing that could do with some spicing up this season. Just follow our top tips for a ho, ho, whole lot of fun this festive season…
___________________________________________
Turns Out, Grown Ups Like Toys, Too
Sure, it may not be a plane that loops the loop or a hula-hoop, but adding some toys to your bedroom fun can make things more exciting and explorative. You don't have to jump straight in at the deep end; a cheeky board game will be enough to get the blood rushing. Of course of you're feeling brave; there's a plethora of great toy options at The Pink Boxxe, and we're always thrilled to make recommendations.
Date a Stranger
Let's be honest, those holiday gatherings can get dull night after night. They're all different, but also all feel the same. Agree on a little secret roleplay with your other half to turn up the fun factor on the dullest gathering. Once you're in, mingle and chat as you always too, but become 'strangers' to each other (well, hello there, Mr. Clive Bixby). Enjoy secret glances and cheeky whispers when you pass each other, but retain your airs of mystery to build anticipation for that eventual arrival home. Or a trip to the coat room… we're not judging.
Forget Mistletoe, Get Under the Christmas Tree
Gifts aren't the only thing that should be lying under that Christmas tree. Light the fire, turn the lights down and the music up, then enjoy a glass of wine and a slow and sexy session underneath the Christmas tree. Naturally, this one should be reserved for couples who live together and don't have housemates. Trust me, nobody needs to see that package unless they explicitly express their interest in doing so.
Make that List, and Check it Twice
List making is not just for children, you know. Suggest a sexual wish-list, where each of you will write down three fantasy sexual scenarios. Swap lists, then each partner should make one of their other half's erotic dreams come true at some stage over the holidays, as the ultimate sexy surprise. You might be surprised what you enjoy exploring with your partner.
Wrapped Up in Ribbon
Don't those pretty little packages look nice in their ribbons and bows? You might be surprised to find out that your partner could, too. Perhaps a little bondage exploration could take your ho-hum holiday sex drive and turn it into a full-blown jingle bell rock. Just make sure you progress at a pace that's comfortable for both you and your partner – nobody wants to have to call the neighbors over to undo that knot your partner tied and can't loosen.
The Thrill of Opening Your Presents
You know that feeling of excitement and anticipation you get when you're just starting to tear open your presents? You could get with your partner, too. Consider some sexy lingerie (you can go holiday themed, if you want, or stick to the tried-and-true classics like black lace) to spruce up your next intimate session. It will make the anticipation higher and the reward all that much sweeter… just like opening the present you've been hoping for all year long.
Welcome the New Year with a Bang
Remember the spark back in the beginning? When you couldn't keep your hands off each other? January can be a long and lean month. Keep it hot at home by resolving to have sex every day for the month. It will bring you closer as a couple, as well as getting you well on the way to that exercise plan you promised yourself…
Most importantly, be sure to stop by The Pink Boxxe for all your intimate needs. Whether you're looking to host an adult-themed holiday party, you need to pick up a toy or accessory, or you'd like to explore some lingerie options, we have everything you need to make your nights much less silent. Happy holidays, everyone!